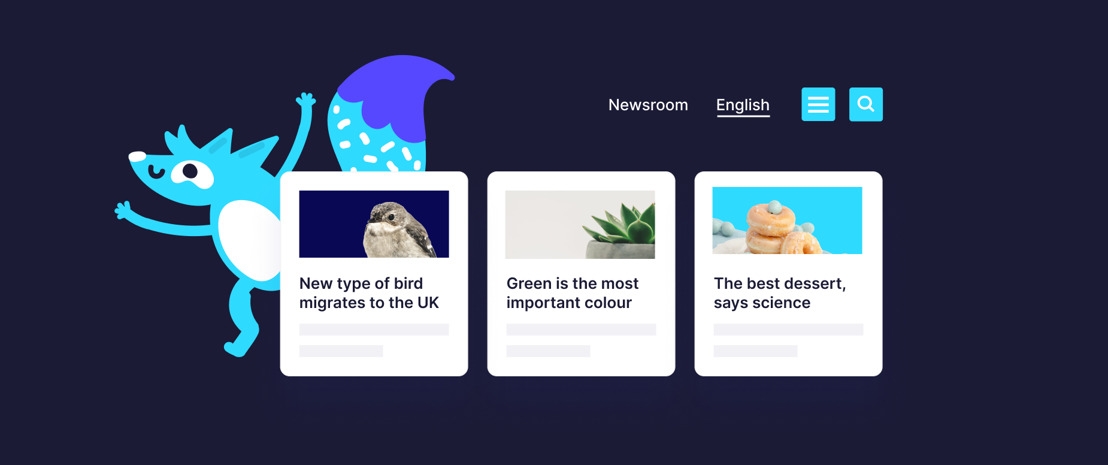 9 Online Newsroom Examples You Must Check Out
We've compiled just some of our favourite looking online newsrooms below. There are just too many to choose from!
Online newsrooms are a great resource for any business that has plenty to share and messages to pass onto stakeholders — from customers to investors — online newsrooms make it easy to share news in a creative and beautiful way. Newsrooms are quickly becoming an essential part in the toolkit of every PR professional.
We've had over 40,000 news stories published in Newsrooms on the Prezly platform so we're incredibly lucky to have great examples of online newsrooms, but also press releases too.
Apart from the visual pleasure of an online newsroom there are a host of benefits too:
Easy access to images, media and PDFs.

People can search and find historic press releases.
---
Timberland is a fantastic example of a retail newsroom as the product images really stand out. Clean, pretty and simple — just like the brand. Contact information and a subscription box can be found at the bottom of the newsroom too.

---
Telenet uses a highly customised newsroom to ensure the brand is matching across all web assets. This has resulted in a clean, on-brand, easy to view newsroom. This is something that your media contacts appreciate instead of searching through their inbox or trying to keep up via Google searches.

---
Porsche develops and engineers beautiful cars, so there's never any doubt that their newsroom would look the same. High quality images that are used throughout makes each story really pop in this newsroom.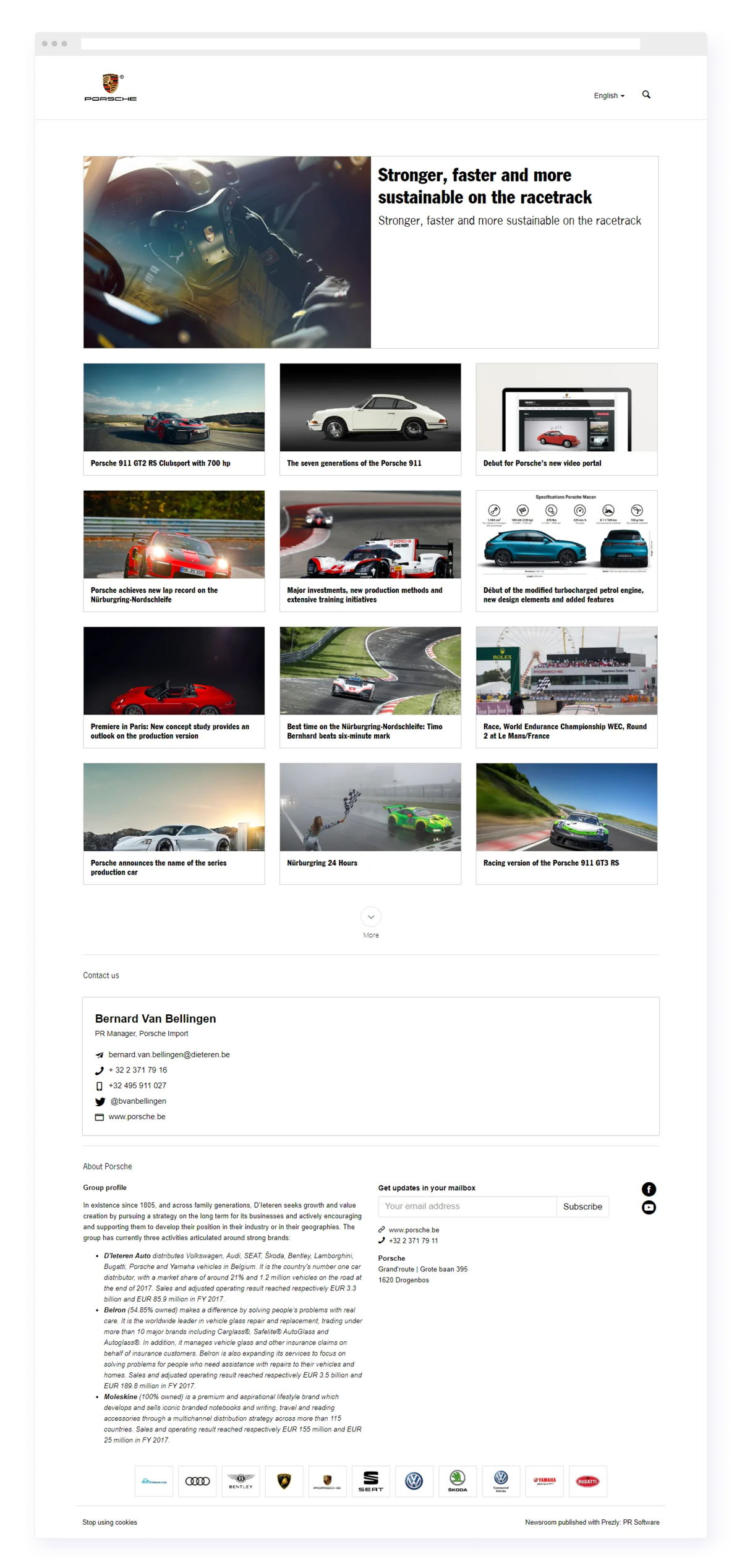 👉 Learn why journalists love online newsrooms and what you can do to create you.
---
Warner Music's Online Newsroom
This music industry powerhouse has a newsroom full of eye-grabbing images and press release opening headlines. All of which can be found story on the web making it incredibly easy to reference back to for media contacts.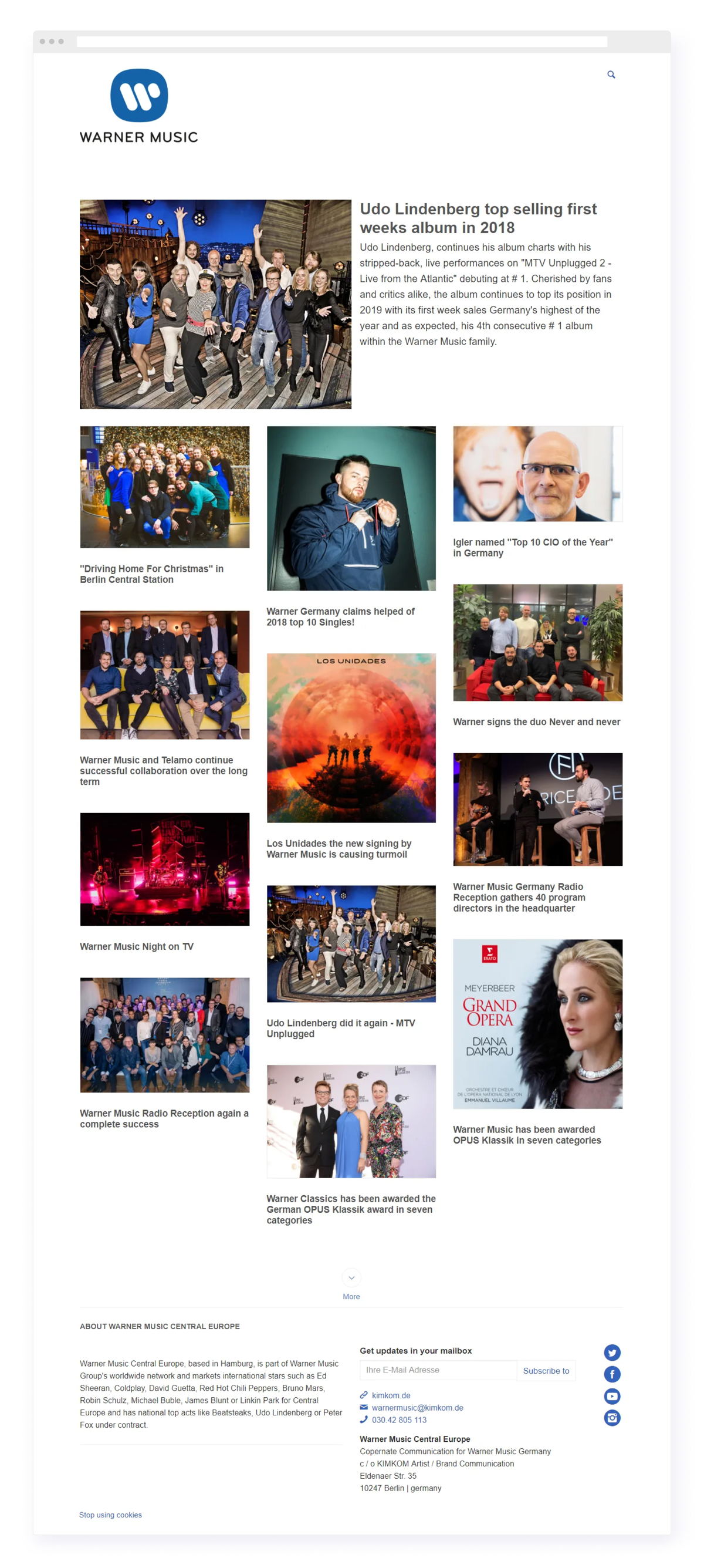 ---
Be warned, this newsroom is incredibly appealing to your sweet tooth. Great images, relevant information and press releases that you really want to open.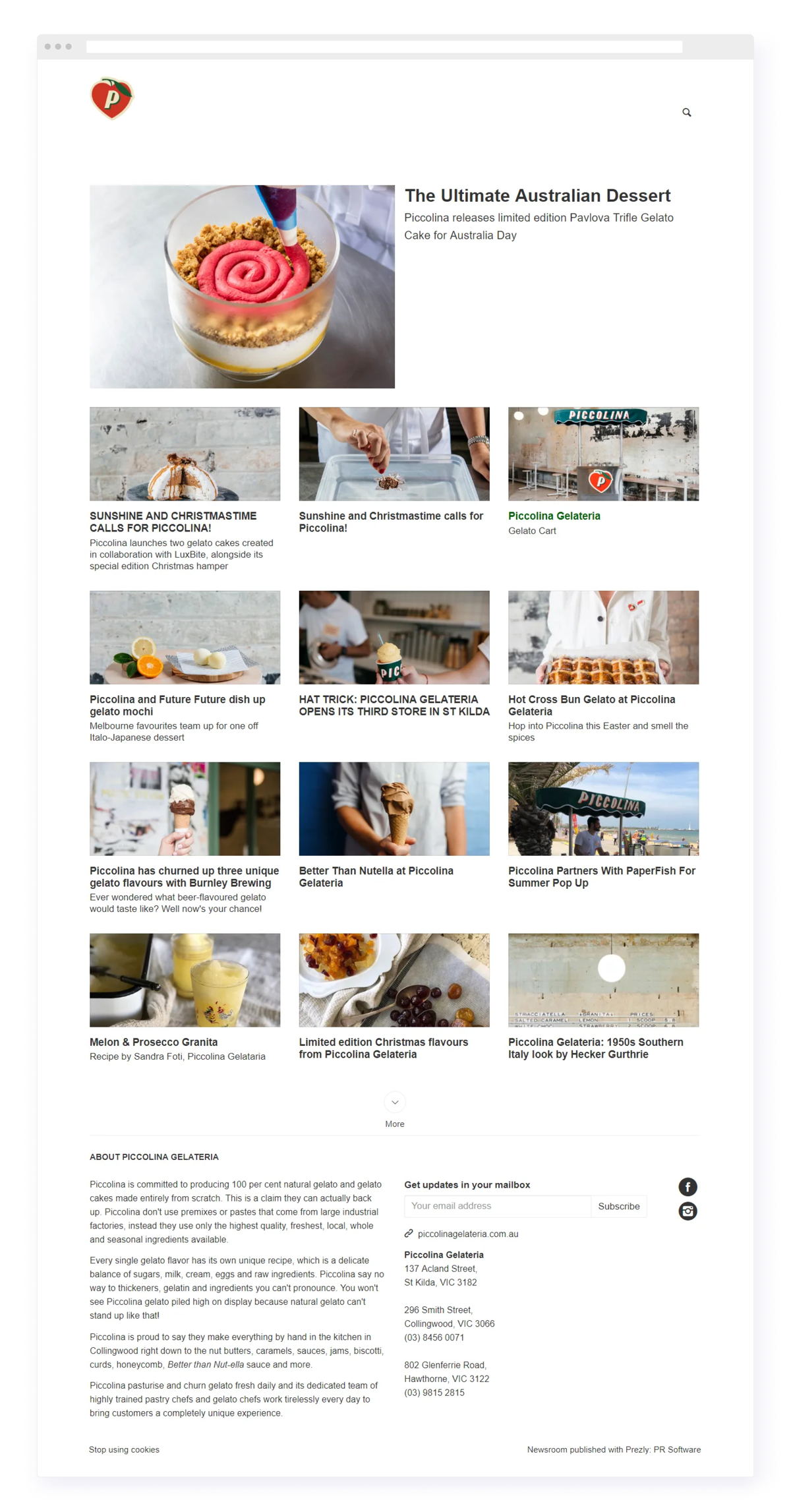 ---
Pinterest has a head start over many newsroom as it is visual first. So it's safe to say that you can expect examples of really attention grabbing images.

---
A sports and location focused newsroom, Canada West has done a great job with their layout and matching up of their branding to make this a go-to asset for their media team.
---
Another similarly sporty newsroom, X-BIONIC provides not only a great looking and accessible newsroom, they also routinely create fantastic press releases that grabs attention.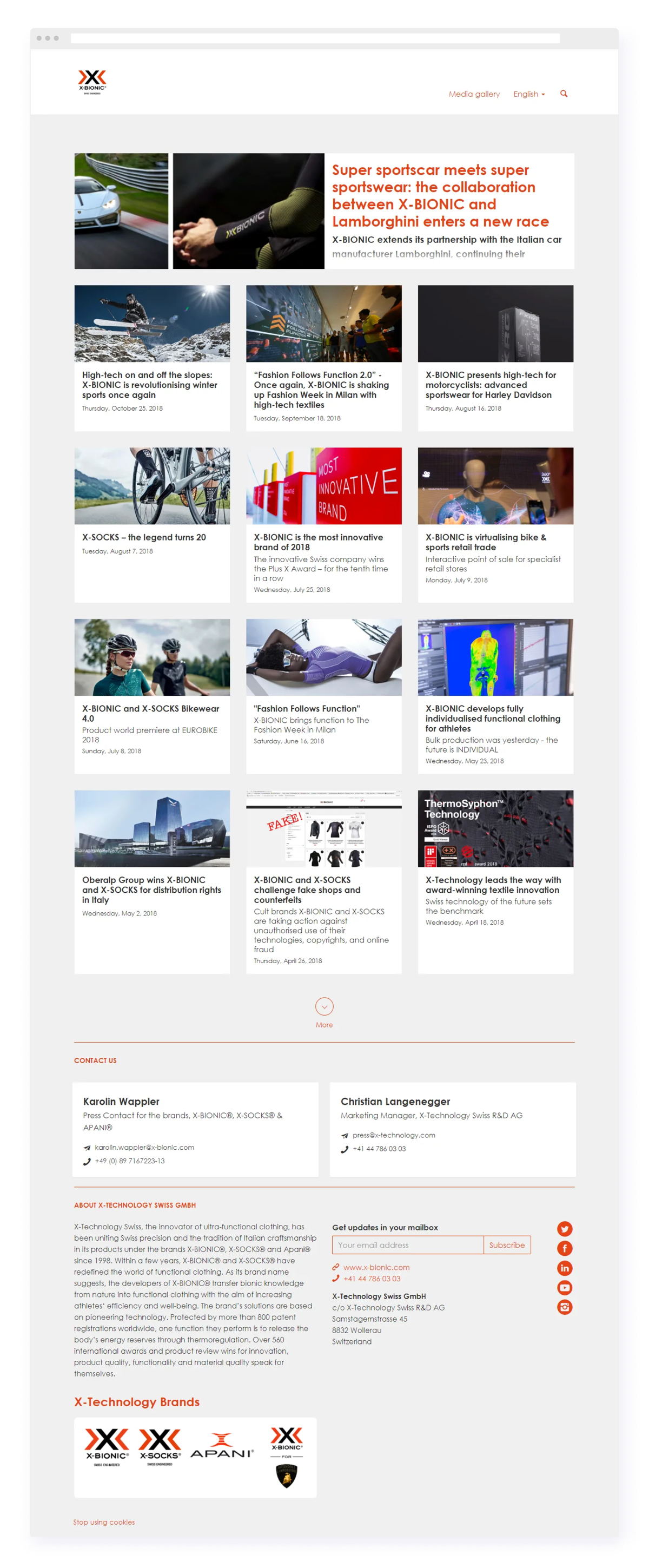 ---
OEC has created an incredibly beautiful newsroom that is very on-brand with their vibrant colours helping to highlight key topics and news really well. This is also a great example of using contact cards at the bottom of the page.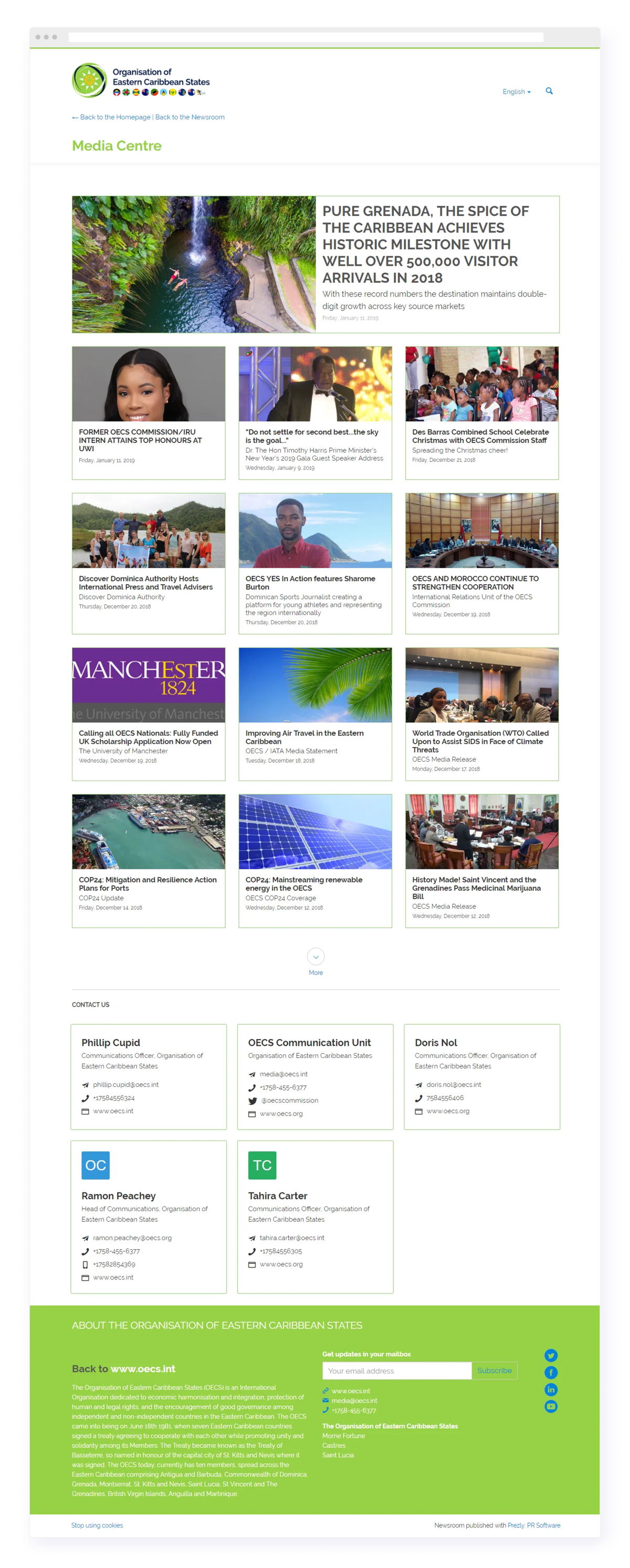 Looking for inspiration? 👉 Find a press release example for any need or purpose.