Digital PR: The Future of Link Building
One of the biggest challenges SEOs have with link acquisition is scalability. The time it takes to go from opportunity to a confirmed backlink to is much longer than most would expect. Once you've discovered an opportunity or developed an idea, the typical stages of acquiring a link would include;
Sourcing and organising contacts

Creating & sending your pitch

Following leads & confirming links
This is a process we undergo on a daily basis at Murals Wallpaper. With many campaigns occurring at the same time, it's important that we remain organised and efficient.
Our Link Acquisition Problem
Over the past year we've developed our digital strategy and placed link building as a high priority. We used to use Buzzstream; the go-to platform in link building. Despite some neat features, it just didn't have the power we needed to reach our goals. To achieve a high amount of links we knew that we would have to get away from generating bespoke content for partner blogs. A PR-style tactic of broadcasting our products and campaigns seemed the best way forward. We spent a few months trying to find a platform to communicate at scale without losing that personal touch. We're a multi-brand interiors startup; this meant we needed a system to manage campaigns for all our brands in a visual way without draining our budget. We discovered Prezly…
Our Link Acquisition Solution
When trying to explain Prezly to friends and colleagues, I typically say; "It's a mix of CRM, WordPress and Mailchimp". Prezly has become a masterstroke in our ongoing digital PR efforts and has allowed us to achieve the scale we need to achieve our goals. Let's take a closer look at its core features whilst running through those link acquisition stages.
1. Sourcing and Organising Contacts
When searching for the right software, we came across many platforms that included press contacts. The contact lists were sometimes in the many thousands or even millions. While it seemed a logical advantage at first, we found the 'batch and blast' of cold emails to be ineffective. The monthly cost of having access to these emails was also way out of our budget. We've since taken the decision to source, qualify and scrape for contacts manually. It takes longer than paid access to journalists but there's a genuine value in researching and getting to know our audience. We take a horizontal PR approach and use Prezly's handy tagging system to segment our database for more targeted campaigns. We break our audiences up into communities such as 'fashion', 'interiors' and 'women's lifestyle'. We can filter contacts for quick management of lists and segments. The 'person' and 'organisation' contact types also comes in handy for managing multiple people from the same publication. This is something we really struggled with in other platforms.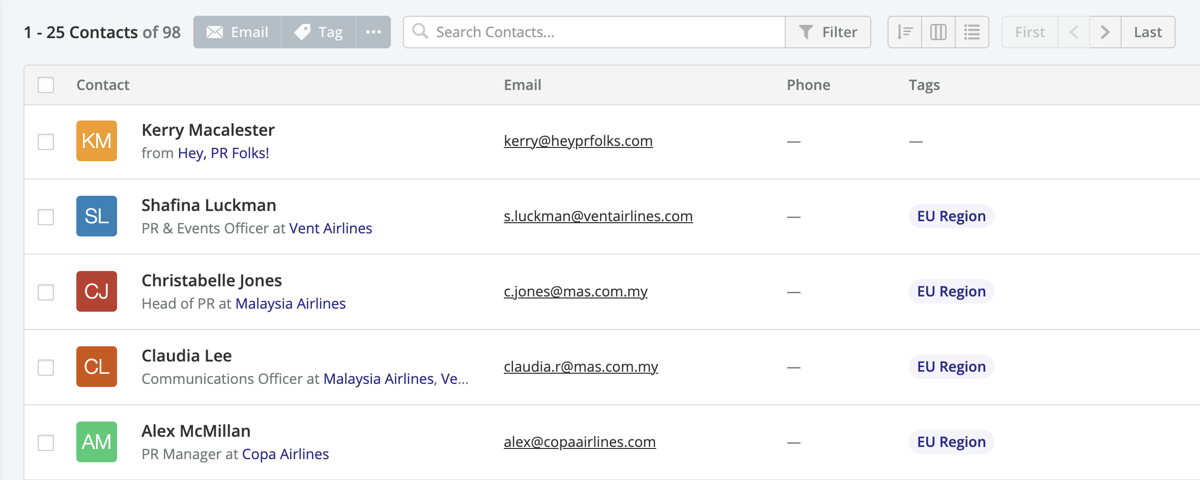 2 (a). Creating Your Pitch
Prezly's content management capabilities are probably its number one feature. Generating press releases is super simple. You have the the ability to upload text, images, videos, downloads and links; everything you would ever need in a press release. But it's not just the admin side that's standout. The resulting landing page is without doubt the best in the PR software industry. The clean design allows anyone to match (and often beat) the professional press rooms of major companies. As an interiors company, this is something that is particularly important for us. Our industry is very image-led and the mobile optimised image gallery gives us a helping hand in highlighting our products.
As any marketer will tell you, the more targeted your communication, the higher the response rate will be. With this in mind, it was important for us keep our communications personal. We wanted to continue developing relationships with the journalists and influencers we were contacting. Something we had struggled with in the past was working with the one database of contacts through multiple identities. All of our brands are within the interiors market. Our core community of contacts know about our other brands but it's often appropriate to speak from just one voice. This is particularly important with link building. Before Prezly we found that influencers would often get confused about which site was relevant and end up pointing links to the wrong one. This was inefficient because we would be spending time chasing up incorrect links rather than creating new ones. With Prezly you can have multiple unique press rooms and manage them all within the same account, utilising the same database of contacts. It's ideal for multi-brand management.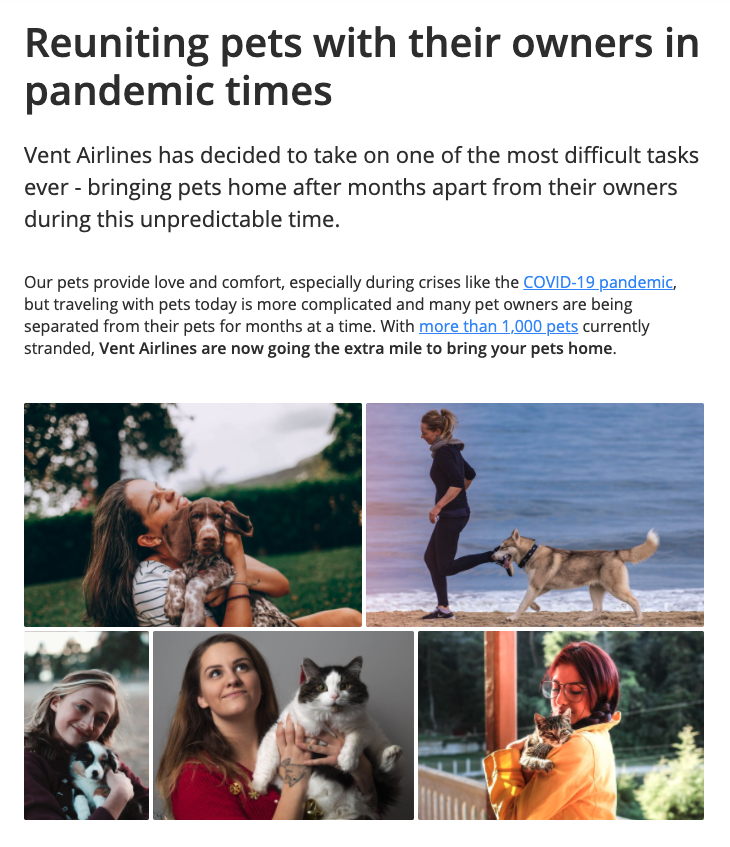 2 (b). Sending Your Pitch
So that covers the CRM & CMS aspects of Prezly, but I've yet to tell you about the final Mailchimp-style functionality. While Buzzstream is personal, we found it inefficient for our needs. We could template emails, each pitch had to be sent individually – with 3000 contacts, that meant pressing 'send' 3000 times. Not ideal. With Prezly, you send the email once, but keep it personal with custom data fields (Hi, %firstname%). Cleverly, the bulk of the email generates from the press release you have already created. You simply choose the relevant press release and it fills the email with rich HTML content. It's like a mini landing page in the journalist's inbox. If you're looking to pitch a release with a super-specific message you can send personal one-on-one emails with the press release embedded. We find this particularly handy with ongoing conversations where more generic email would seem odd to the recipient. We Simply leave them out of the email campaign and pitch them personally right after.
3. Following Leads & Confirming Links
This is one of the most crucial steps in the link building process because. If you don't do it correctly you could end up wasting the hard work you've just put into the release. Unlike sending emails through your standard email client, Prezly gives you a breakdown of who opened, clicked, viewed, downloaded and watched your content. This gives you a really great feel of who to follow up with and who's not interested. It's of course the former where we spend most of our time at this stage.
Using a Google Spreadsheet, we track everyone who has interacted with our release and follow up the next day. We do this with a standard web-client email and ask if there's anything further we can do to help with getting featured. From this we'll follow up any requests, get confirmation of features and most importantly for us, confirm a follow link to our website. When we've emailed over 3000 influencers, this post-release back and forth can often get pretty hectic. With Prezly's mailbox integration, all emails exchanged from me to the contact (even outside of Prezly) is tracked. It's within then updated on the influencer's Prezly profile so you don't lose track of your conversations.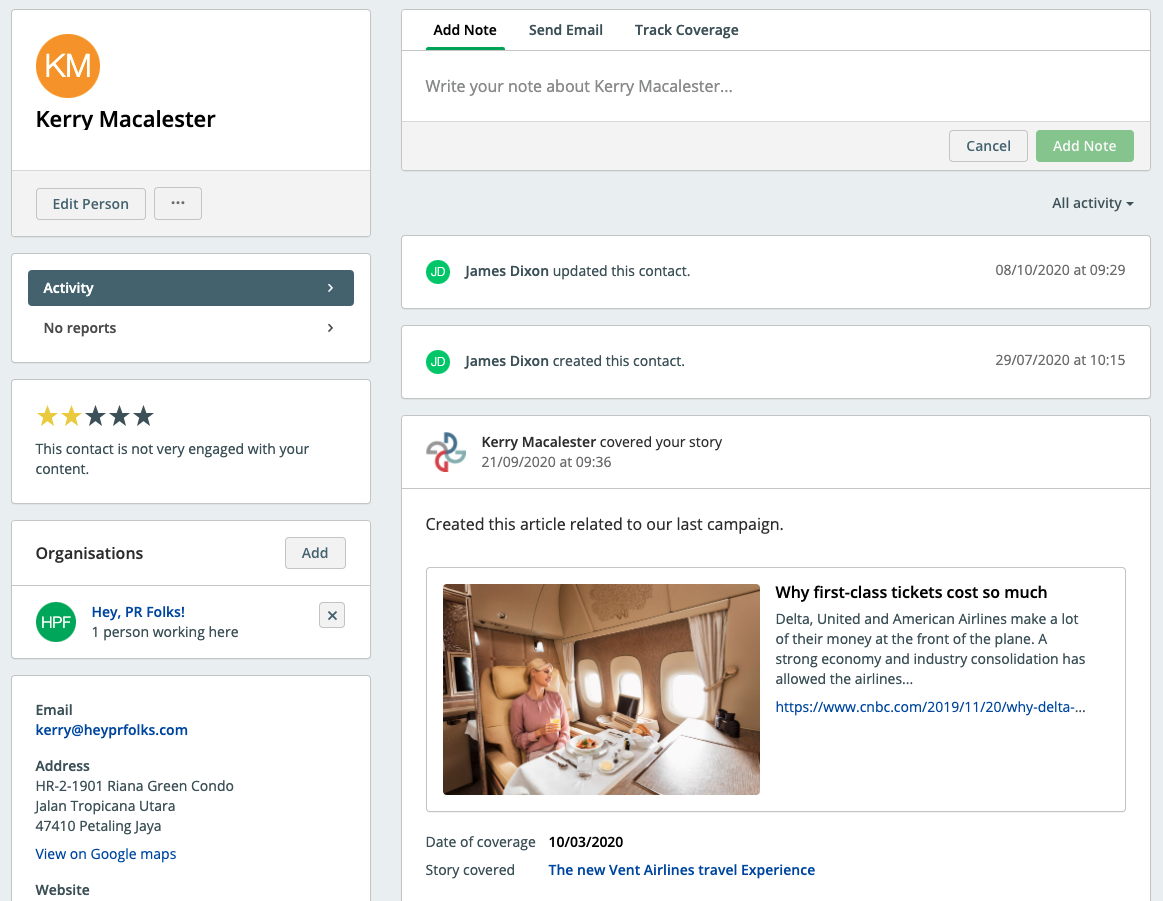 The Prezly Team
The Prezly system was built for PR, not link building. Without knowing it, the team at Prezly have built a system that helps turn traditional link building into a scalable, modern, white hat SEO process. And not just that, but they've done it with a price that's incredibly affordable to any size business. Over the past 10-15 years, link acquisition has become synonymous with mass crawling and spamming. Fortunately (thanks to Google clamping down) the practice has become much more legitimate. It's something which is likely best dubbed 'digital PR'. Despite its traditional PR roots, Prezly is a fantastic solution for any SEO professional looking to develop a digital PR operation.
More about James Mellan
I'm the Brand Marketing Executive at Mura Innovations; a UK-based interiors company that specialises in wallpaper and high-design flooring. I manage communications and PR across our portfolio of brands.