PR Automation: 5 Repetitive Tasks That are Holding You Back
Everyday mind-numbing, repetitive tasks get in the way of doing what makes a difference. You know... the juicy, creative, meaningful stuff.
This is as true for people that are just getting started in the PR business as for those who have been around for a while. The lucky ones hand off jobs like data entry to interns or juniors, which means many of them get tasked with repetitive tasks that suck the fun out of their jobs.
It doesn't need to be this way.
Clever PR automation software and workflows can help minimise boring tasks. Here are 5 typical tasks in the influencer outreach workflow.
1. Building lists of influencers
2. Finding the email addresses of influencers
3. Enriching your influencer list with social data
4. Distributing multimedia press releases
5. Making coverage books
Automate and simplify them now:
1. Building lists of influencers
The days of scouring the colophons of magazines for influencer contact details are gone. There's a more efficient way. Most influencers have large online footprints.
You could find their info online with some clever Google searches. That's a good start. Make it even easier by using specific software to find influencers based on interests.
Buzzsumo is one of my favourites. It's helpful in 3 ways:
Find topic experts
Search for influencers in specific areas. You'll get sortable lists with their bio, website and reach. Warning: you won't find emails with BuzzSumo. We'll get to that later.
Find popular content
This lets you understand which influencers wrote about the topic you're researching. You'll also see how much that topic got shared on different social channels. This info might be handy to pitch influencers your related story.
Find influential sharers
You can find out who shared those articles about your topic. You'll see who tweeted it, and how large their following is on Twitter.
If they shared that article, they might also want to do the same for yours. Just send them a friendly email.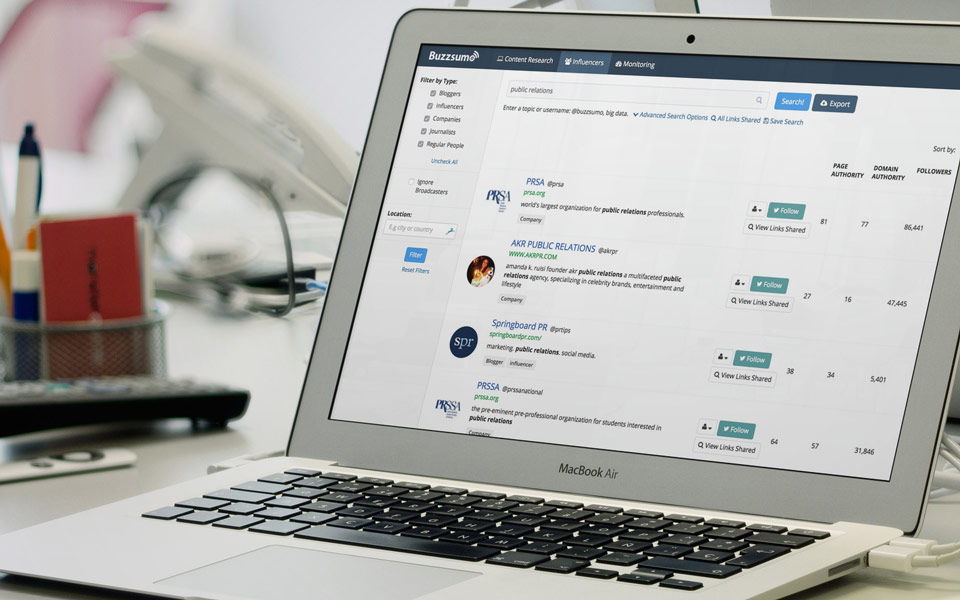 Price: starts at $99 per month
So now how do you find the email addresses of these influencers?
2. Finding the email addresses of influencers
With some clever Google queries you can find most addresses in a few minutes. If you just need to find one address thats okay. If you need to find over 5, it becomes a boring and repetitive task.
Enter Voila Norbert. You give this email butler the first name, last name and domain of the influencer. Norbert scours the web and returns the email address.
You don't need to upload this info one by one. Norbert also accepts spreadsheets. Handy to find large amounts of email addresses.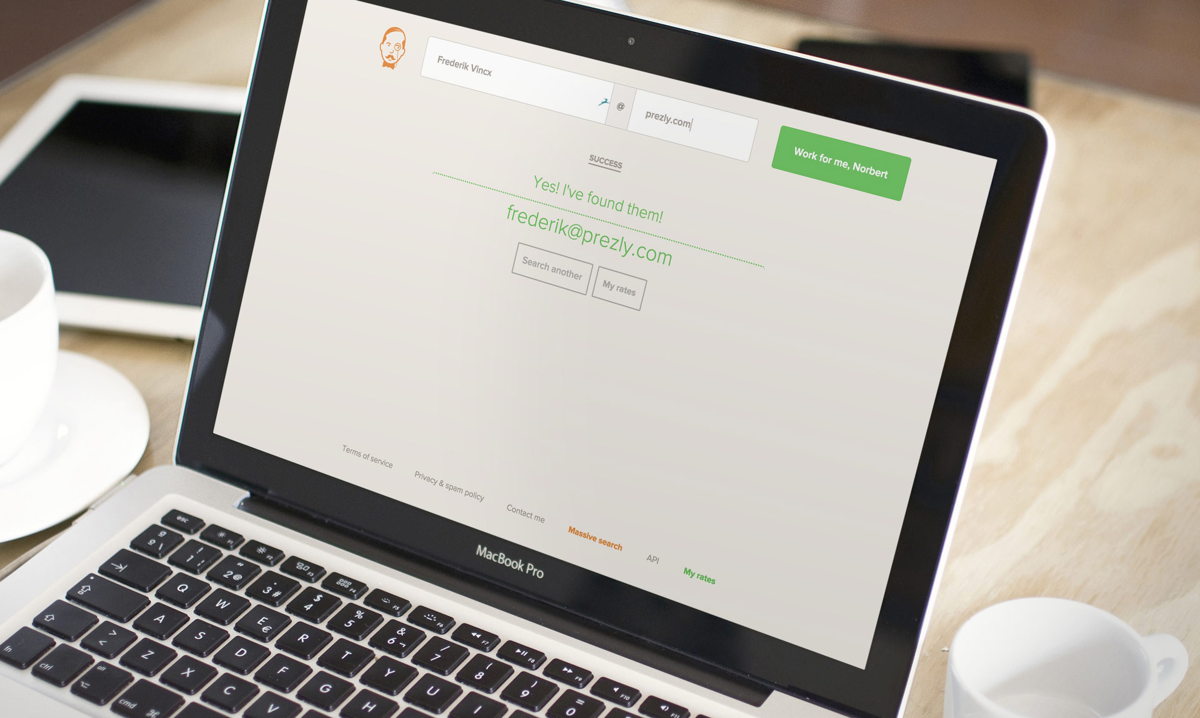 Price: 0,25$ per email, or 50$ per month.
Norbert doesn't always find the address. If it didn't get found, you could look into these 14 techniques to find any email address in 10 minutes or less.
But what if it's the other way around? You have email addresses, but no social info?
3. Enriching your influencer list with social data
Media and bloggers prefer to get stories from people they already know. That's why it's important to build up a relationship before pitching. A practical way to go about this is to follow the influencers on social, and to interact.
So how do you do this? How do you find their social profiles? Let's assume you only have an media list with names and email addresses in Excel or you are working with a contact management system like a CRM.
You don't have to spend hours Googling to enrich your data. Some CRM systems come with auto-enrichment. It is worth a look to see if it is a feature that yours offers. You could be sitting on a gold mine and not even know it.
If your CRM or contact management platform doesn't have auto-enrichment, try something like FullContact instead.
Enter an email address or Twitter handle, and get a list of all the social profiles associated with that email or handle. You can also sync contacts from all your address books, fix duplicates, and correct formatting errors in your database automatically.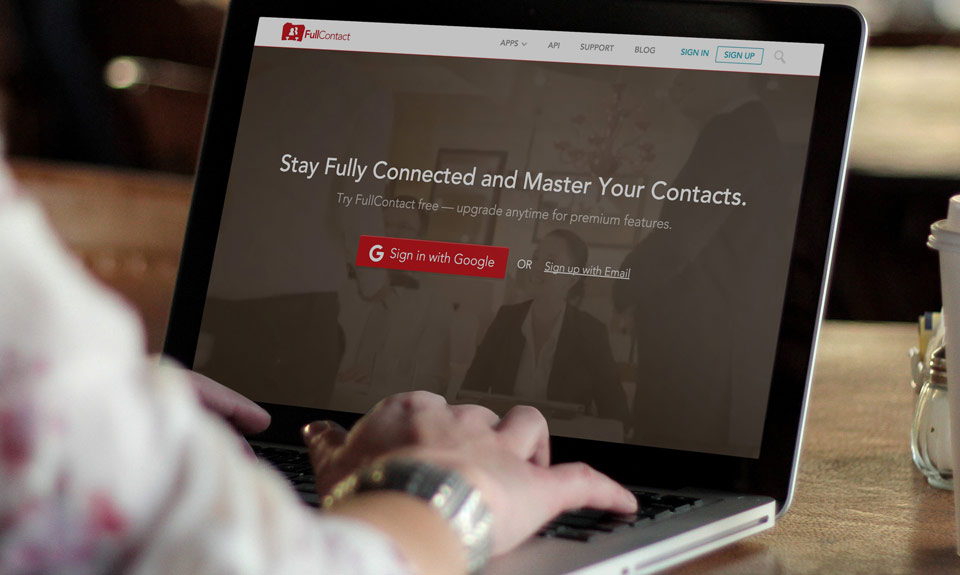 Price: starts at $499 per month (but you can trial it for free)  
You know who you want to share your story with and have built a relationship?
Good.
Now make sure you share the story in an appealing and practical way:
4. Distributing multimedia press releases
This usually requires Excel, Outlook, Dropbox and maybe an online newsroom. It oftentimes goes like this:
You look for relevant contacts in your Excel spreadsheet.

You create 2 lists: one for high potential people that you send an individual and personalised email. Another for other influencers that you are mass mailing, just to make sure that your story gets picked up.
You upload your media assets to Dropbox, and in all the emails you link to the dropbox folder. If you want to do a really good job, you also create image previews and add them to the emails.
Additionally, you might publish the story to your newsroom or blog.
That's a lot of mind-numbing repetitive work if you publish a lot of stories.
It doesn't need to be.
This is where I shamelessly plug Prezly:
Shamelessly because Prezly makes it really easy for communication teams to organize their contacts in one place, publish news and newsrooms, plus send email campaigns from one platform.
You can create a multimedia press release in your own custom-branded newsroom. Prezly automatically generates a multimedia email version to pitch to influencers. Every email includes analytics to help you track response rates.
Price: starting at $80 per user per month.
Now you might follow up, and hope that people are interested in sharing your story. If they do, you did well, and you can share this with stakeholders. A typical way is via the coverage book.
5. Making coverage books
This might be the most boring task that junior PR's need to do. The interesting work is done by now. This deliverable is just to prove all stakeholders that you did a good job.
How a typical afternoon making a coverage book might look like:
Gather the data from different sources: peruse Google Analytics reports for referral links to the news story. Scour print magazines for mentions (I hope not), and combine this with reports of your clippings provider.

Putt all this evidence in a Powerpoint deck.

Spice up the deck with pretty screenshots and metrics about the reach, like the domain authority and pagerank.
Fiew. That's a lot of work. Luckily this can be simplified.
Check PR automation tool Coveragebook. You input the urls of your coverage and in return get a beautiful pdf with screenshots and metrics.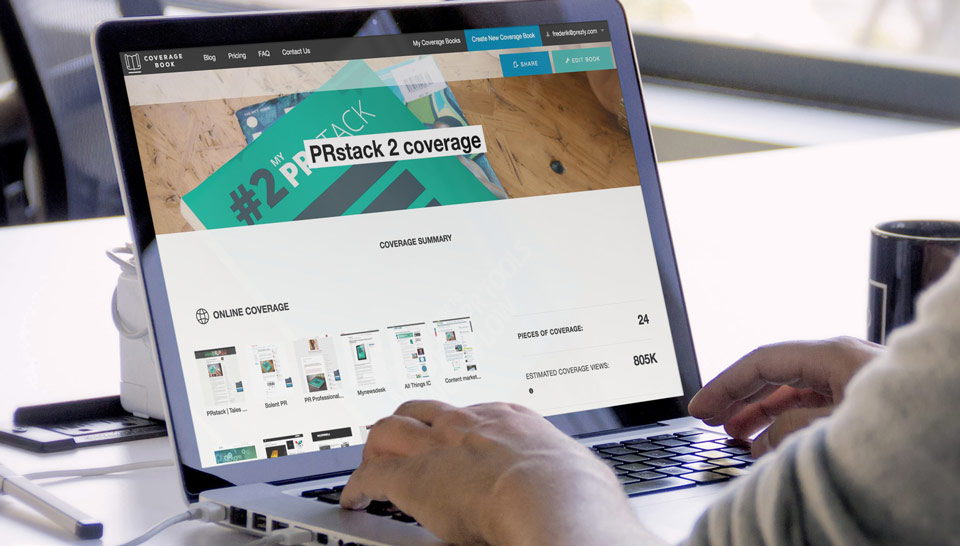 Price: starting at $59 per month
Want more PR automation?
These are just a few examples of PR automation. There are plenty more repetitive tasks that you can simplify. Anything that allows us to spend more time getting creative and less time in Excel hell is a good thing.
I made a thorough guide to PR tools that might inspire you to automate even more boring tasks. It contains over 140 tools that can help you add more value. There's also a quick guide with 10 tips to help roll out new PR tools.
Now go make a difference.
This post originally appeared on my own blog about PR innovation.