The PR Tech Stack: Tools for Advanced PR Management [Infographic]
Working smarter, not harder in public relations means using tools, here are some of the best
At Prezly we believe that public relations should lean into technology and embrace the productivity and connectivity it brings! To celebrate this, we created an infographic that covers some of the most helpful categories in PR tech with the biggest names in the industry (and some up comers who are making their mark).
Without further ado, please enjoy this infographic! 😊 Also, scroll on past it to learn more about some of these tools in depth. 👇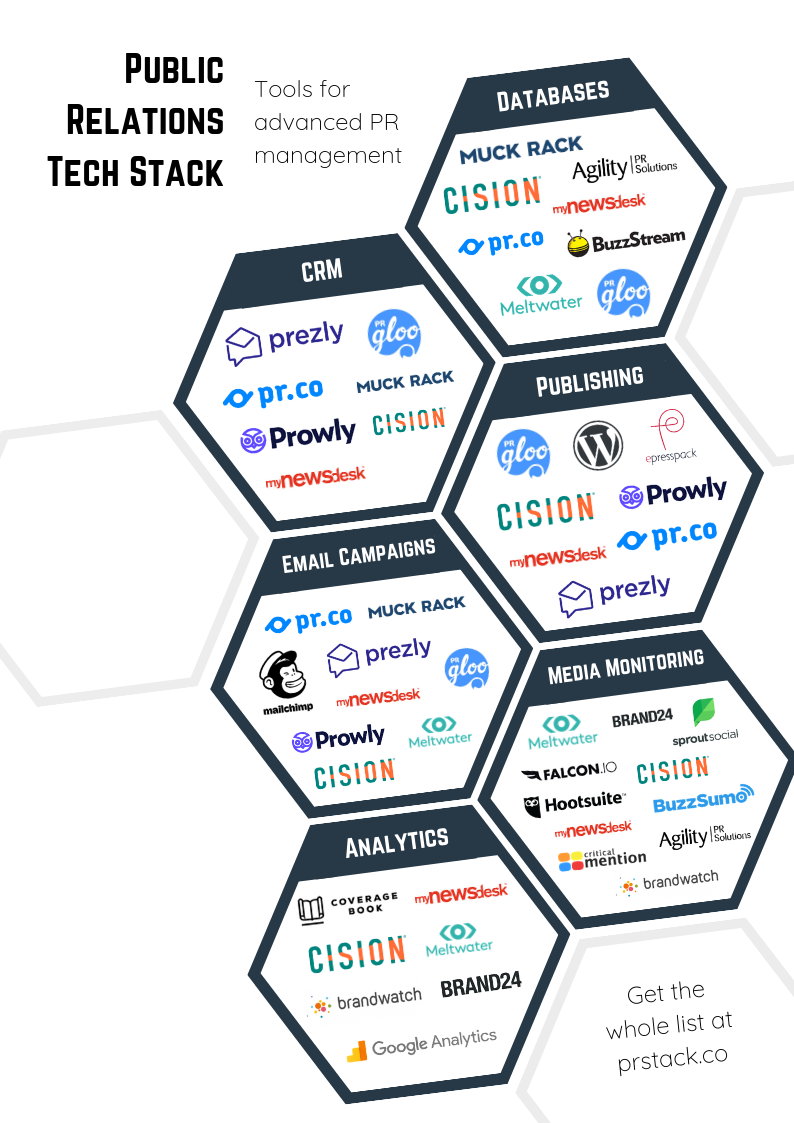 Databases
Media and contact databases are the quickest way to build a media list and discover new journalists and stakeholders. Careful though! Using a database comes with a lot of responsibility to ensure that you are maintaining standards of GDPR, the CANSPAM act, and other regulations.
CRM
CRM stands for Contact Relationship Management. These tools take a media database list and make them personal. You can stay on top of interactions, add notes, and enrich contacts with new details and information.
Publishing
Publishing tools in PR have skyrocketed past Word Docs and PDFs. Think interactive online newsrooms, multimedia press releases, mobile-ready stories, and people finding and subscribing to your content without you lifting a finger. This is the future!
Email Campaigns
Email isn't dead. According to Cision's State of the Media report, a whopping 92% of journalists prefer it. Email pitching has certainly turned into an art over the past years with developments in personalization techniques and pitching tactics.
Media Monitoring
If you don't know what they are saying about you, you are already losing. Media monitoring is a crucial tool to understanding your reach and brand impact.
Analytics
Proving worth, creating a buzz, demonstrating reach, and understanding what really good coverage is for your brand comes with crunching the numbers. PR analytics are necessary to getting a real picture of what is going on.