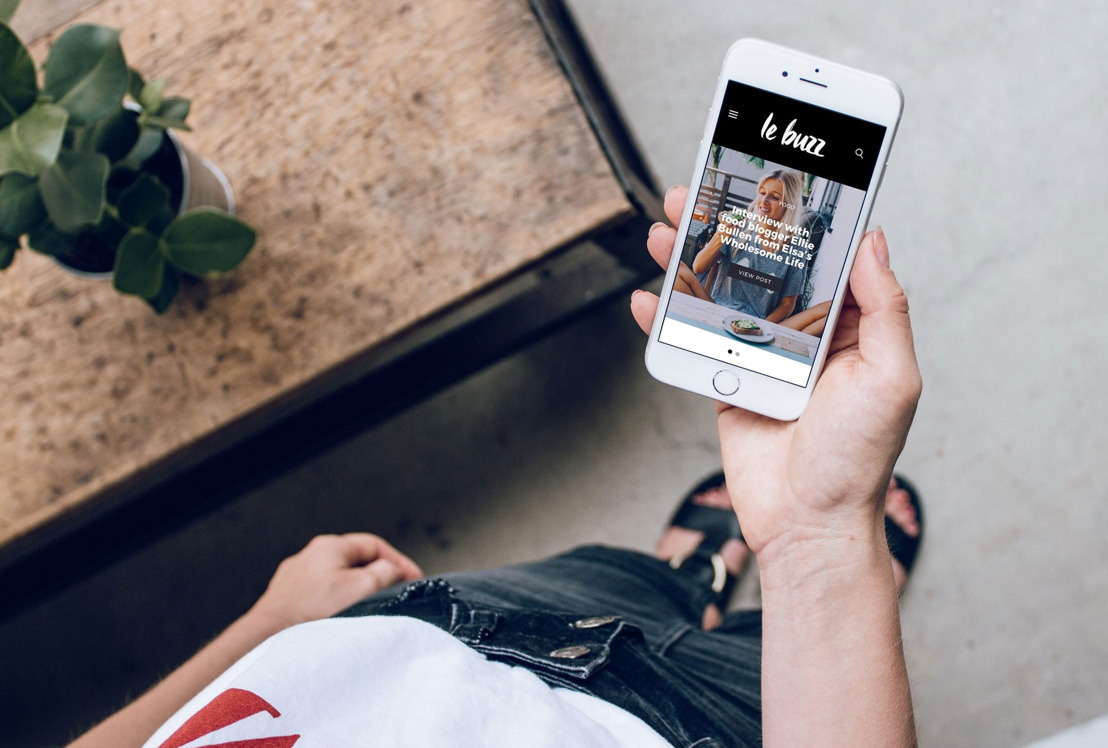 Why Journalists Love Online Newsrooms & How to Create Yours
Learn what makes an online newsroom so valuable to your business and media contacts.
Why Do You Need an Online Newsroom?
Journalists often spend their days in a rush to get an article out. They need to source additional information, reach out to contacts and whatever else is humanly possible. As a public relations professional that should ring many alarm bells.
If your media contacts are running around like this, then how will they read your press release?
Selfishness aside, it is a good question to ask when you consider just how little time there is in the day for a journalist to conduct their work.
Pro-tip - make it super easy for journalists to grab information, media, and other relevant information about your company without any phone calls or emails.
Which leads me to the online newsroom. The central sanctum of company information that only discusses and stores the facts of the business and not a single piece of sales or marketing material insight. As a result, this central source of company information is a treasure chest for a journalist.
Role-playing alert - as a journalist seeking out verification of facts or simply collecting them   for an article you have one industry source that provides key information in a central location, the newsroom, or the other option is that you have to seek out industry information each and every time you create a story - which one of these options are you going to choose?
---
Journalists Expectations with Online Newsrooms
In an online survey focused on journalists and online newsrooms, there were some interesting insights found:
99% of journalists say it's somewhat important (9%), important (34%), or very important (56%) for a company to provide access to news releases within their online newsroom.

93% of journalists say that it is important to have news releases organized by type of news category.

94% of journalists say it's somewhat important (14%), important (28%), or very important (52%) to have access to photographs within an online newsroom.

90% of journalists indicated the availability of digital product press kits would be somewhat important (25%), important (34%) or very important (30%) for their work.

75% of journalists say video files are an important component of an online newsroom.
This is media relations at it's finest. You know what your media contacts what, how they want it and when.
---
Media Attention - Now and in the Future
Now I wouldn't normally talk about SEO and PR in the same article, the content marketing vs PR debate is for another time, but there is a key piece of relevance here.
A pro-tip here would be to have your newsroom indexed by Google News so that as and when your press releases are published, they get crawled by Google which will then determine if it is added to Google News. This addresses the now, but what about the future benefits of your newsroom?
Pro-tip: Make sure you link to your company press kit, these provide valuable, bite-size information that the media can grab and use without having to call you or seek out relevant information elsewhere.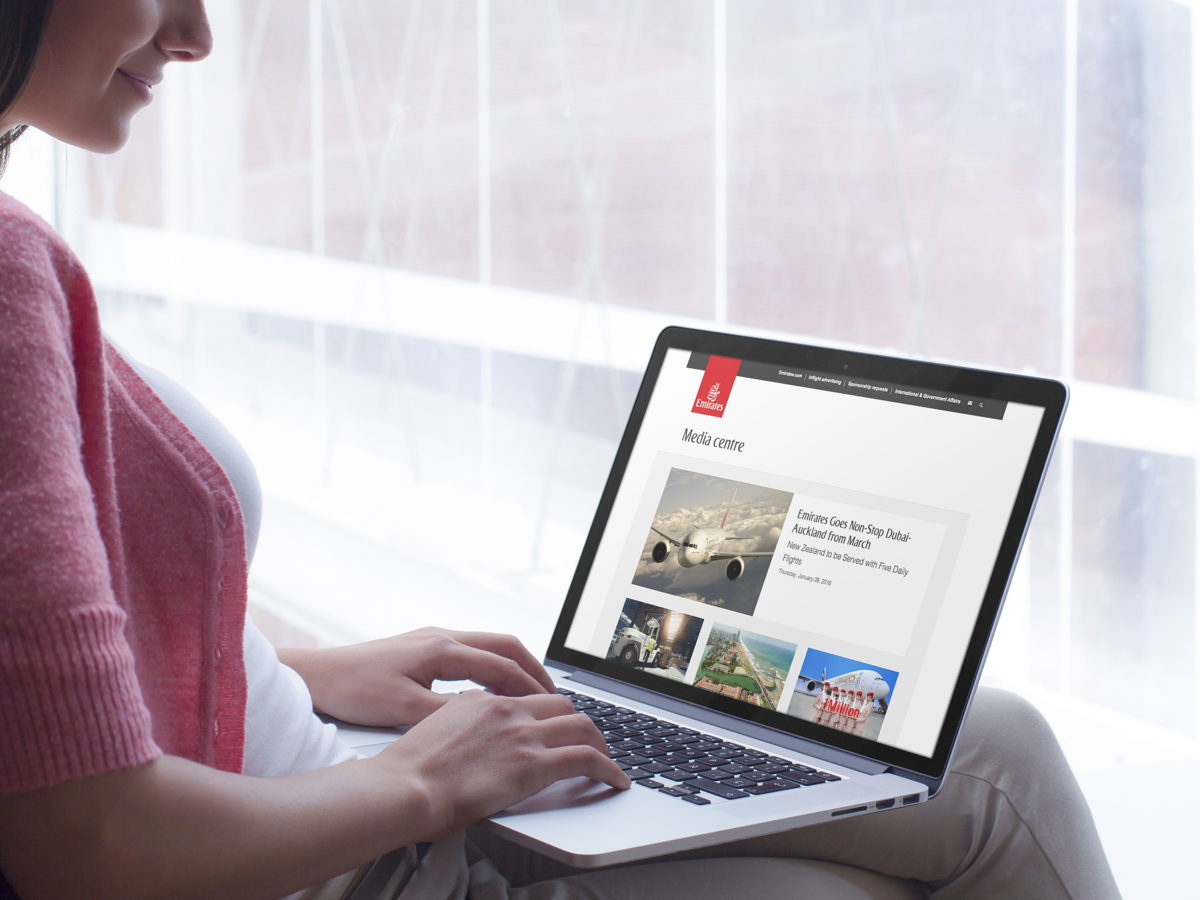 Archived press releases are a fantastic source of inspiration for journalists, they provide historical insight into your company, can provide industry metrics (which journalists are always seeking) and ultimately give your media contacts some ideas for stories to run with.
Something to consider is that journalists can pick up stories and coverage, even if it's a year old, on the basis or trends and what's hot right now which is a huge benefit when you consider the organic result that this generates.
---
Design Principles
First and foremost the purpose of this section is to help you understand what are the key and fundamental aspects of a newsroom that need to be considered during the design phase.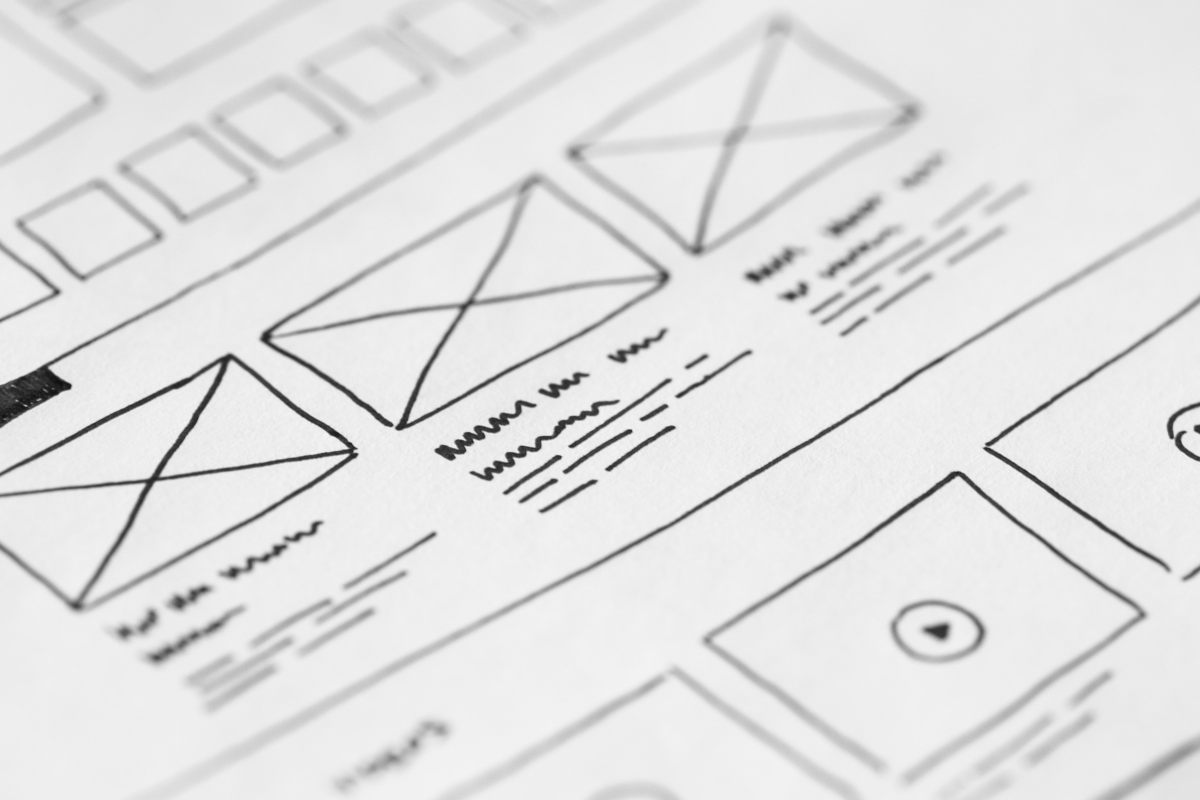 These design principles are focused on ticking all of the boxes that ensure solid media relations are formed simply because you made it incredibly easy to go from A to B.
This requires clear and easy to access information, a clear layout of press releases and consistent branding so there are no questions such as what, where, who, why, when etc. Let us dive further into the principles below:
---
Adding Company Information
A boilerplate is an essential part of your press release and so it needs to be part of the newsroom. Most journalists seek this key piece of information out to add to articles when you get coverage, so ensure you have a boilerplate that is visible throughout the newsroom as well as in a prominent area of the newsrooms too.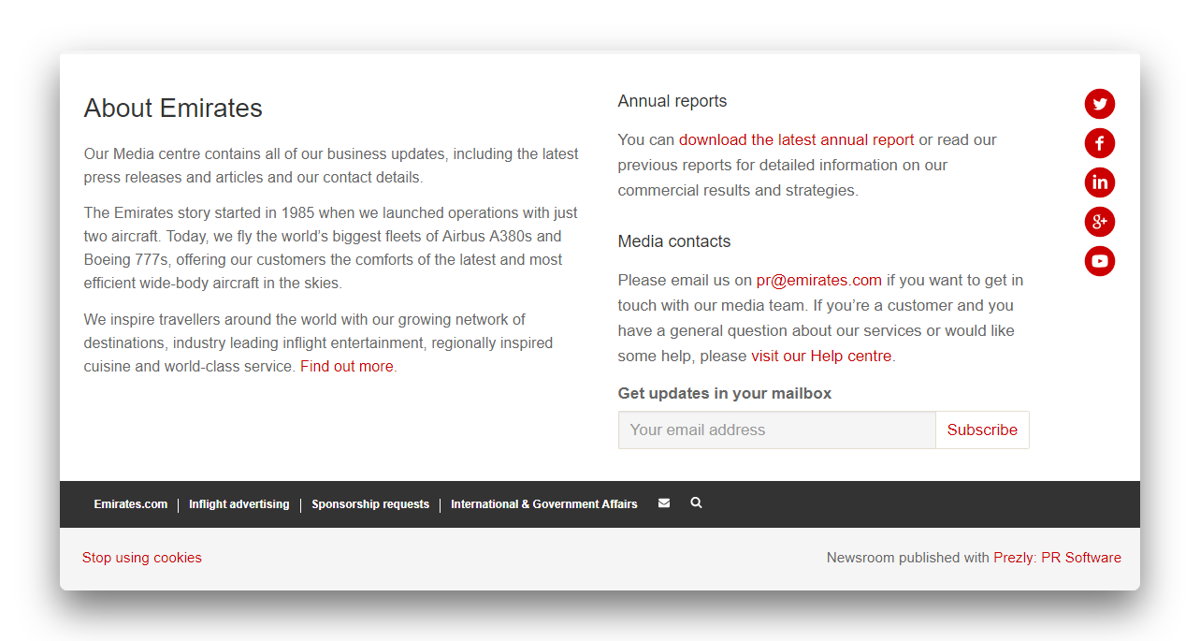 The example below shows you a footer example of a boilerplate which is placed next to a subscription form and additional contact details. This is perfect for a journalist who has no time and attempting to call and find the right spokesperson for a story is just too long.
---
Highlighting Contacts
Depending on the size of your business, locations, industries and a whole host of other factors you may have several key media spokespeople on your list who can engage with the media.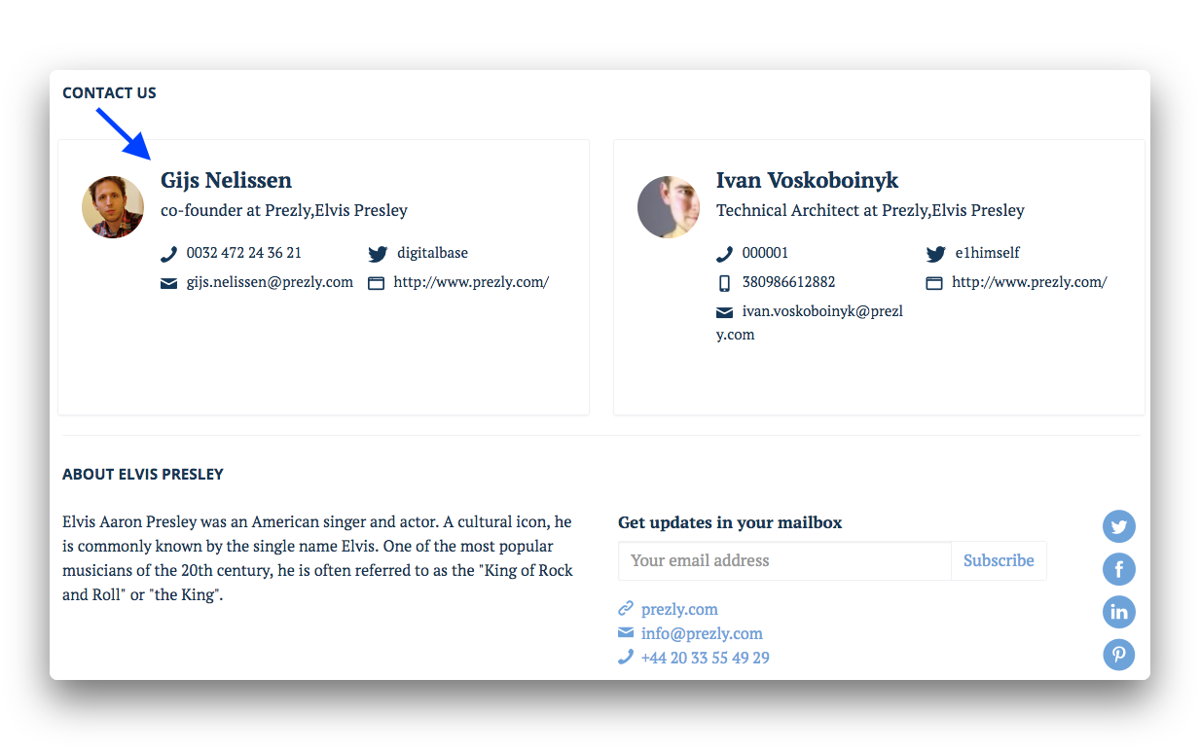 Highlighting these key spokespeople and providing information ensures your media contacts do not have to skip past you when seeking an interview for industry expertise. In reality, you are likely to become a media source as you simply provided information in an easy and clear format - it's sometimes really that simple.
You can see below a fantastic combination of key company contacts alongside the company boilerplate. Imagine if you were a journalist and all of this key information was just there, no phone calls or chasing people around and no endless email chains.
---
Matching Look and Feel
How the newsroom looks and feels is based on how you plan to set up your online newsroom. You can do it in-house or with a development team or you can opt for a platform such as Prezly to make the process very smooth, simple and best of all no development teams are required.
Regardless of the option you choose, you need to ensure that as much of the newsroom is matching up with the overall brand and image. The newsroom doesn't need to be fancy in terms of styling effects and designs, it just needs to have matching logo's, company images, matching colour palettes and the general feel too.
Onto the last aspect of the design of your online newsroom. The layout and appearance of your archived press releases. Below are 3 styles and I briefly explain which style of newsroom they are best suited for.
---
The Appearance
Plain block placement

Grid block placement

Cascade block placement
Plain Block Placement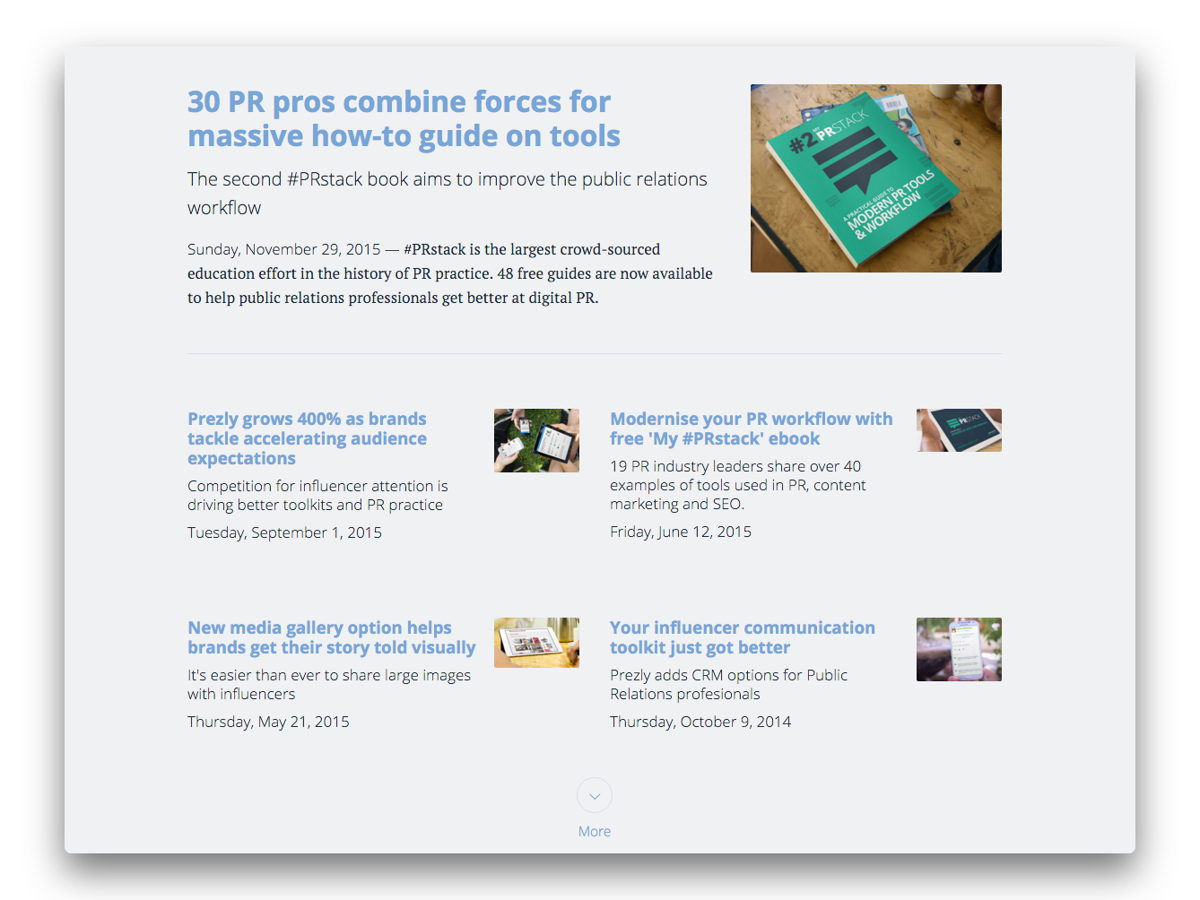 This style is for text-heavy press releases with far less emphasis on the image itself. For engagement and attraction purposes I would suggest that this is used for academic or research-based press releases.
Grid Block Placement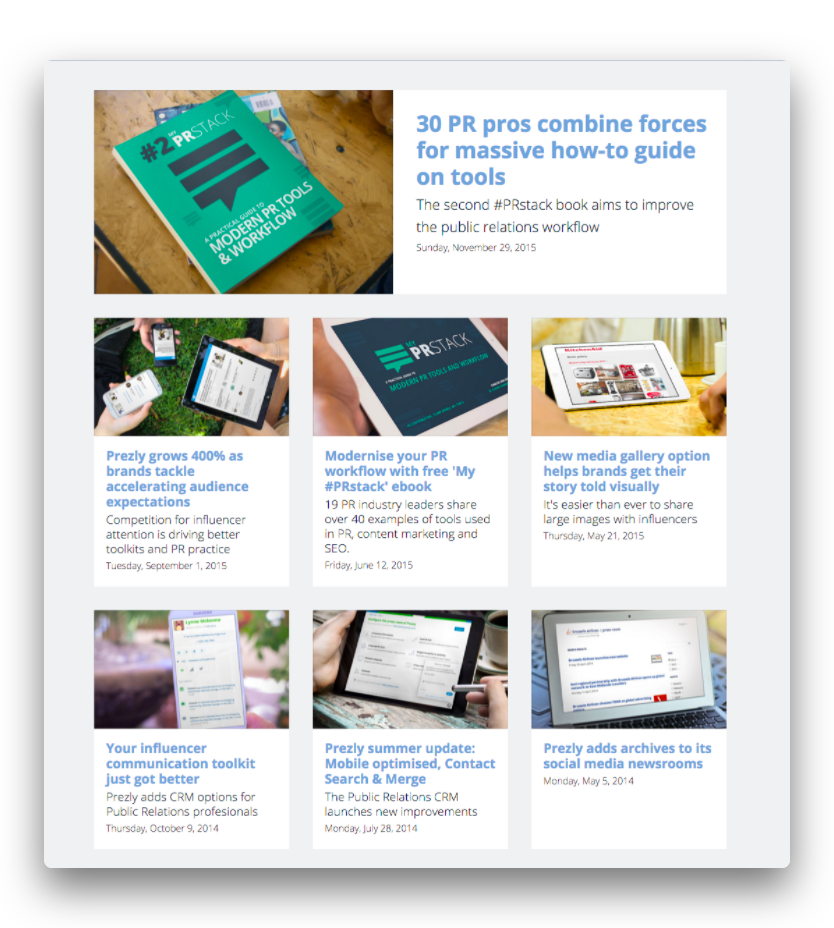 This style of layout ensures there is equal alignment throughout your newsroom which helps to keep it very neat and uniform. If you create text-heavy press releases or have many then opting for a more structured layout will help keep things from getting messy.
Cascading Block Placement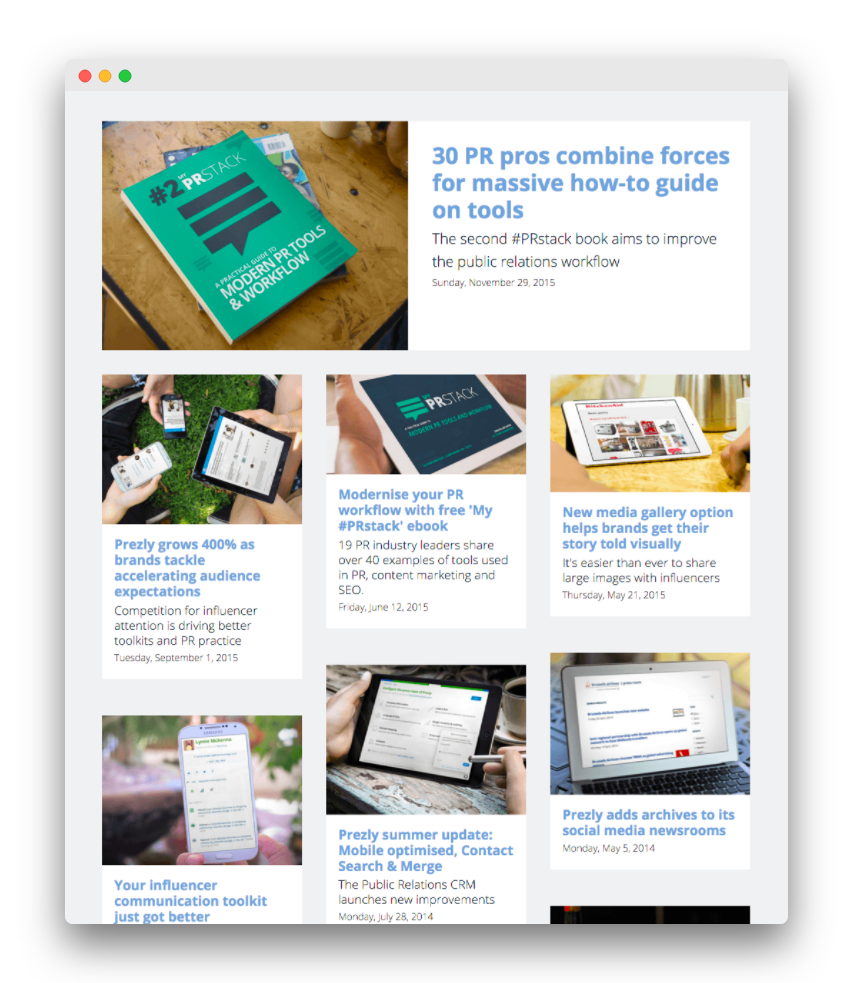 This layout has a more free-flowing style, like a Pinterest board, helping to keep the newsroom fun and engaging but still delivering the key information in a clear and effective manner.
Psst. Check out these online newsroom examples.